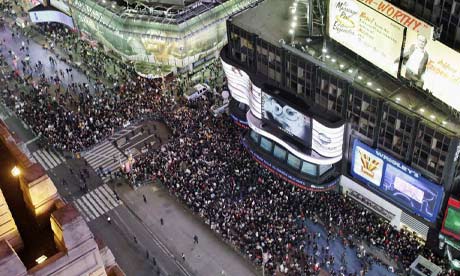 "Occupy Wall Street" has become a world movement, from Times Square (above) to Europe. I saw images from protests in Rome. Having just been there, I was filled with a mixed sense of pride, in their solidarity with us; and sadness, in that so many people so far away are feeling the same economic pain.
Those who control the media, who would have some reason to feel threatened by this movement, can no longer ignore it. They can, however, try to cast doubt on it.
The coalition of common people, union groups, workers and students was being painted by reporters as an inarticulate mob not unlike a crowd at a Grateful Dead concert. The protest had no center; no one knew what the result of all of this unrest was supposed to be.
The ostensible leaders of the Occupy Wall Street groups tried to turn this uncertainty into a virtue. There was anger and frustration in the air. There was a shapeless desire to "organize" around common goals that would stir the passions of the disenfranchised, goals that could realistically be achieved.
But now that the oligarchs who are ruining our country and the world have successfully turned public opinion against the idea of unions (unions are not altogether blameless, either), the call to "organize", to fight against worker exploitation and economic corruption, wasn't stirring enough .
Reporters make the whole thing seem pathetic just by asking a spokesperson, "What do the protesters WANT?" And the response is often indefinite, and vaguely idealistic, nothing urgent or threatening enough to force the the have-it-alls to concede to... to what?
I was pleased to see the Chicago Tribune publish a list of twelve clear, concrete goals from Occupy Chicago, demanding what needs to be done and by whom.
See the list here

.
From my point of view, for anything to come to the table, something drastic has to happen.
And so, if a reporter asks, "What do you want?", I want the response to be something simple like this (with the backing of the thousands in the streets to see it through):
"We want our homes back. We want our livelihoods back. We want our lives back.
We want to see those who were rewarded for taking these things from us be brought to trial and to humbling justice.
We want to force Congress to pass legislation to redistribute the wealth.
If that does not happen, we will invoke our Second Amendment rights, and redistribute it by force.
And we will be TOO BIG TO FAIL."
Rome "Day of Rage"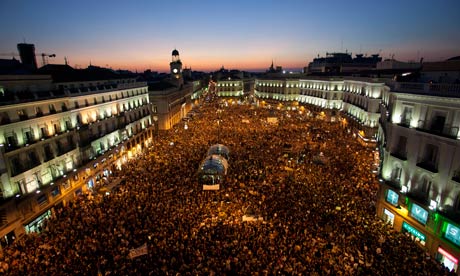 Madrid
Berlin
London