In its 83-year history, no Oscar-winning Best Picture has ever had a dog as the focus of its story, nor featured a dog as a main character.
From Rin Tin Tin to Lassie, from Asta to Old Yeller, from Hachiko to Benjy, there have been all sorts of well-loved movies with dogs front and center. Often, it is the dog in a film that is responsible for providing the rooting interest, and emotional attachment, a viewer has with a film.
But, sadly, Oscar's Best Pictures have been all but declared "No Dogs Allowed".
That could change this coming February, to add another record-breaking statistic to an already exciting and unpredictable Oscar year.
I wracked my brain to remember if any previous Best Pictures featured a dog in an important role. I even looked at lists and Academy Award reference materials. (Ernest Borgnine and Betsy Blair, as leading "dogs" in 1955's "Marty", don't count.)
Yes, there were some high-profile dogs in movies nominated for the big award. Toto from "The Wizard of Oz" (1939) is probably the best-known; the goofy animated dog(s) in "Up" (2009)figured most recently; and the comical old bulldog in 1944's "Since You Went Away" is probably the most sadly forgotten. The title of one great film, "Sounder" (1972), was even the name of the family dog.
But which Best Picture winners, if any, had an important canine character?
The most high-profile Oscar-dog is probably the bull terrier "Bullseye" from "Oliver" (1968), the menacing sidekick to the evil Bill Sykes (Oliver Reed). He was definitely a second-string supporting player, however. Bullseye has one important scene, in which he betrays his master after witnessing Sykes murder the leading lady. The four-legged informer did well by his very small role, and became a hero of sorts, but was promptly forgotten, and was far from providing a heartwarming center to the film.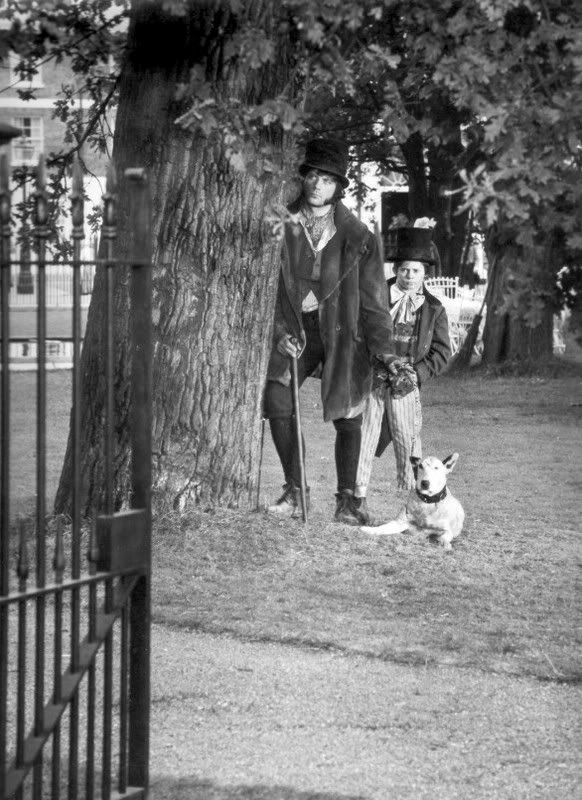 In "Midnight Cowboy" (1969), a sly prostitute Cass (Sylvia Miles) uses her poodle, Baby, to help lure potential customers. The dog has slightly less screen time than Miles (who nevertheless earned an Oscar nomination herself); but is responsible for one of the movie's most rueful laughs, as Baby is an unwitting conspirator in Cass' affair with hustler Joe Buck (Jon Voight).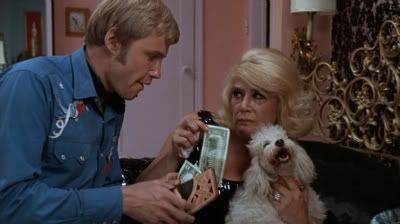 1970's epic war biography "Patton" gave us another bull terrier, this time an historically accurate one. General Patton's canine companion was named "William", after William the Conqueror. That is, until he is humorously frightened by a Parisian cat, after which the General dubs him "Willie" (which, by the way, was the actual dog's real moniker.) Far from being a key player in the development of plot or the mover of history, Willie is a prop; but at least he is there to take a final walk into the sunset with the General before the final credits roll.
The sloppiest (and cutest) Oscar-film dog was probably "Butkus", Rocky Balboa's Mastiff and jogging buddy in the original "Rocky" (1976). A gift from Rocky's pet-shop-clerk-and-soon-to-be-girlfriend (Yo) Adrian, Butkus bounds onto the scene with eager energy and lots of heart. He accompanies Rocky on a jog or two before, somehow, dropping quietly out of sight (except for maybe a wayward closeup or two...memory doesn't serve.) But I do know that Butkus' talent was more or less wasted, when he could have been a contender.
Kevin Costner bonds with a more primal creature in "Dances With Wolves" (1990). Costner's character, Lt. Dunbar, is followed and watched, approached and avoided, by a wild wolf , who finally sheds his mistrust of the human enough to get close to the man. The wolf provides wary companionship, and a frolic in the prairie, for the wide-eyed white man in his midst. Hence, Costner's name, bestowed on him by the Sioux. When the evil white settlers shoot at the animal, it's heart-rending. Still, the wolf, who I believe was called Socks, provided a good subplot, but not a main story. Besides, he was not exactly what you might call a pet.
The most ghastly use of a dog in an Oscar-winning best picture was the appearance of the otherise sweet little poodle, Precious, in "Silence of the Lambs" (1991). Catherine Martin, trapped in a well by the insane Buffalo Bill, lures the hapless dog into the well with her, and threatens to kill the dog if Bill won't let her go. No more than a prop, Precious is a clever symbol of innocence subjected to evil. Fun for all ages!
A more recent use of a dog in an Oscar-winning Best Film was as a fleeting sidekick to Russell Crowe's Maximus in "Gladiator" (2000). I read somewhere that the dog, a mixed-breed Shepherd, was added to the opening battle scene, so that confused audience members knew who to root for. Naturally we assume that whoever is kind to a dog is on the good team. So Maximus "unleashes hell", as it were, the dog goes tearing off into battle, and is soon forgotten. (Meaningless trivia: this was Oliver Reed's second appearance in an Oscar-winning Best Picture, and his second with a dog. Was the late Mr. Reed a dog's best friend?)
In last year's "The King's Speech" (2010) two or three corgi's appeared, mainly as set decoration, and an historically accurate detail. The British Royal tradition of keeping corgi's as pets began with King Edward. The dogs barely register, but they have personality to spare, and make their scenes memorable, even if they don't do more than serve as characters in the king's bedtime story to his daughters.
And now, in 2011, there are several movies in which dogs provide warmth, support, and laughs in central roles or important secondary ones. One of them may even be responsible for putting a movie in the Oscar winners-circle. First there is Skeletor, the melancholy and confused Greyhound that gives Joseph Gordon-Levitt some much-needed unconditional cuddling in "50/50".
Then there is Cosmo, a heart-melting little Jack Russell Terrier in "Beginners", who communcates telepathically with Ewan MacGregor, and in wry subtitles for the rest of us:
And finally there's Uggie, another Jack Russell Terrier who mugs and mimes his way into the hearts of viewers in "The Artist". I have not yet seen "The Artist", but I already love this little performer, who actually won an award at Cannes called the Palme Dog! There's even a tongue-in-cheek on-line campaign out there to get Uggy some Award love (
Consider Uggie
). While an Oscar nomination for the dog is pretty unlikely, I do think "The Artist" is wowing enough viewers to have a good shot at Best Picture gold...and that would make it a first among Oscar movies, a best picture with a Lead Dog, and a victory for aspiring dog-performers everywhere.
Let me know who your favorite movie dogs have been...and if I have forgotten any major roles for dogs in the history of Oscar-winning Best Pictures
.